Architectural Metals Australia is proud to announce the arrival of Pyrite.
This much anticipated addition to the Vestis collection provides a charismatic material option and is set to be the finish of 2021.
After years in research and development, Vestis Pyrite is now available. Pyrite is a metallic, pre-painted aluminium. A spectacular finish in its own right, it also offers a cost effective, quality alternative to brass and gold zinc. The material's subtle linished appearance provides a rich visual depth with an attractive luster. Akin to all Vestis aluminium finishes, Pyrite is a workable material, specifically designed and made for sheet metal roof and wall cladding systems. With a BMT of 0.80 mm and H 44 hardness, Pyrite can be rolled into Standing Seam, Interlocking, Snaplock, Nailstrip, folded into Flatlock and Shingle and processed into various custom shapes, panels and rainwater goods.
Download Brochure
The Vestis Metallic Collection
Pyrite gold aluminium is the second finish to join our growing metallic Vestis collection. Pyrite compliments Metropolis (formally known as White Silver) perfectly. The Vestis metallic offering provides next level sophistication and a competitive alternative to tradition metallic cladding materials, such as titanium zinc, natural copper, natural brass and specialist stainless steel.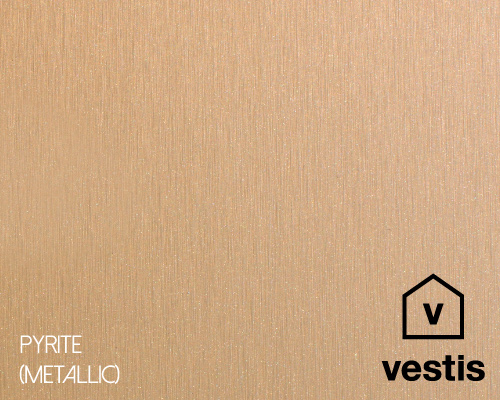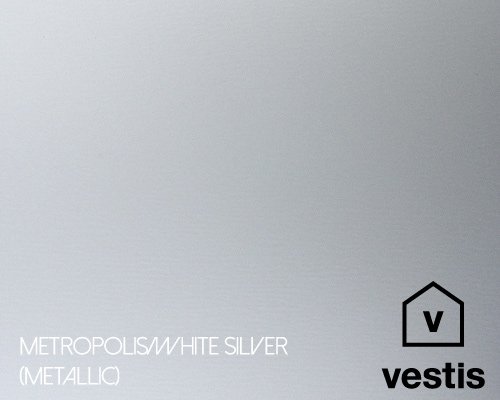 Request Samples
Specify Vestis aluminium with confidence
Vestis comes to the Australian building market through an exclusive import and distribution partnership between Mazzonetto Spa and Architectural Metals Australia (AMA). Mazzonetto Spa have been supplying European made sheet metal globally for more then 30 years.
AMA is supported by a collective 100 + years' of sheet metal and construction experience. Our team is made up of experienced sheet metal workers, design professionals, engineers and sales and marketing experts.
Vestis aluminium comes with a 40 year material warranty on projects located 3km or more from salt water, 20 years on applications 1km – 3km from the ocean and up to 10 year warranties in coastal environments. All warranties must be applied for at the time of installation.
Vestis paint technology is classified as high durability polyester paint. The 35 micron layer finish is hardwearing and made to last. Read more about Vestis paint technology here.
The Vestis collection has been specifically designed and developed for sheet metal roof and wall cladding systems. With a BMT of 0.80 mm in can be used across seam and express cladding profiles.
Vestis has been tested to AS 1530.3 and the material is compliant with AS 1530.1.
Like what you see?
Of course you do! Contact us for samples and more information. Speak with our project team about your roof and wall cladding requirements or reach out to our development department for details on stocking Vestis aluminium.
Contact Our Team